Welcome to the Official Site for Ella Resnick. You may recognize Ella from one of her numerous print campaigns including Nautica and Toys R Us or from her appearance on Team Umizoomi. Here you will find all the news and up to date information about this talented young actress. For Industry Professionals looking to learn more about Ella, please click on her name above for an overview of information.


NEWS & UPDATES
25 Dec 2016
Merry Christmas!
This is one of the most magical times of the year and Ella is so excited that
Christmas Day
has arrived! She got to open her presents this morning and now it is time to enjoy this day with her family and all of the traditions they have to help celebrate. Ella would like to wish everyone a
Merry Christmas
and may the holiday season bring you lots of fun and happiness.

(Image by iWonderlandDesign)

Posted by: Lisa
01 Mar 2016
Happy Birthday!
It's a big day at the Resnick household today as there is a birthday celebrate, and Ella is so happy that today is her big day!
Happy Birthday Ella
! I hope you have a
fabulous
day full of fun surprises, traditions, and everything you enjoy that makes this day exciting for you. It's not every day you turn nine years old and I'm sure you are going to have a great time for your first official day another year older. I hope your birthday is everything you hoped it would be today and more,
Happy Birthday
!
Posted by: Lisa
25 Dec 2015
Happy Holidays!
Ella loves the holiday season, so much to see and do, and for her the excitement is all building up to Christmas. She and Tristan were so
excited
to open presents and see what Santa brought, and are looking forward to what the day bring. They would like to say
Happy Holidays
to everyone who visits the website, and hope that no matter what traditions you celebrate this time of year that it has been one full of love and laughter, and all the best in 2016!
Posted by: Lisa
12 Dec 2015
Keurig
Last year Ella did a photoshoot with
Keurig
and we are happy to say that an image has now surfaced! She can be seen with her pretend family, her mom pouring her Dad a cup of coffee as he lifts her brother into the air, while Ella is happily sitting at the table enjoying this family time. It is a great shot, and so nice to see a photo from this shoot being used. Ella had such a fun time working with her family for the day, as well as the crew members on set. Make sure to keep an eye out for Ella when looking into Keurig products, you never know where her image may pop up!
Posted by: Lisa
18 Nov 2015
Party City
Halloween was quite the exciting night with lots of candy and fun trick or treating! Getting dressed up is also one of the best parts and Ella's images were seen throughout
Party City
again this year. A new costume surfaced during the weeks leading up to the big night and Ella's family was happy to spot her on a dress up kit to become a
peacock
! Wearing the skirt and fun mask Ella can be seen on the front of the packaging and what a nice surprise to see in the store!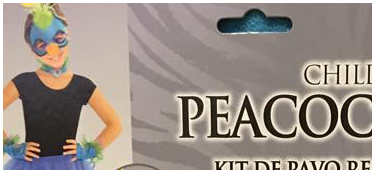 Posted by: Lisa
<< Previous Next >>