Welcome to the Official Site for Ella Resnick. You may recognize Ella from one of her numerous print campaigns including Nautica and Toys R Us or from her appearance on Team Umizoomi. Here you will find all the news and up to date information about this talented young actress. For Industry Professionals looking to learn more about Ella, please click on her name above for an overview of information.


NEWS & UPDATES
31 Oct 2015
Party City
Last year Ella was seen all over
Party City
stores and their website having done multiple costume shoots for
Amscan
throughout the year. This Halloween the sightings continue as the stores have featured her photos once again. She has been spotted in their catalogs, on product packaging, and in new in-store posters as well! Hopefully many of you spotted her while doing your own Halloween shopping in their stores, and it is so exciting to see them continue to use Ella's photos, she loved hearing that people were continuing to spot her across the continent. Now she cannot wait to go out trick or treating with Tristan tonight, and would like to wish all of you a
Happy Halloween
!


Posted by: Lisa
03 Jul 2015
KidCuteTure
Ella always enjoys working for
KidCuteTure
and images from her latest shoot for the company have been surfacing! She can be seen in their
catalog
for the spring/summer line and has also had shots popping up on
Zulily
. She loved the different hair styles they did for her to go along with the outfits and she looks all set for a trip to Hawaii for one of her looks. Images can be viewed in the gallery and
thank-you
to the team at
KidCuteTure
for another great photoshoot!




Posted by: Lisa
02 May 2015
Happy Birthday!
Ella is very excited for today as there is a birthday to celebrate! While it's not hers, it's the next best one as her little brother Tristan is turning four!
Happy Birthday Tristan
! Have an
awesome
day celebrating with your family, enjoying all of the traditions that make this day special. Being four is going to be so cool, and you get to kick it off with cake and presents, doesn't get much better than that!
Happy Birthday
!
Posted by: Lisa
27 Apr 2015
Toys R Us
Summer is just around the corner and that means lots of time for playing outside with friends in the backyard! Swing sets are always awesome to have, and
Toys R Us
has a great selection, to which they've been using an image from Ella's photoshoot for them last year to promote! She can be seen alongside a new friend as they smile while playing on one of last year's new structures. The
banner
was featured in an email sent out to customers recently, and hopefully many of you got to see her in your inbox too!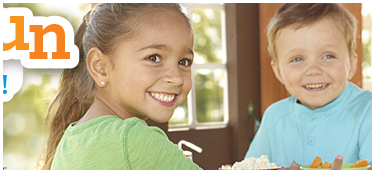 Posted by: Lisa
01 Mar 2015
Happy Birthday!
Ella is so happy that March 01st is finally here! Not only is it the start of a new month, a day off of school, and one step closer to spring, but today is a big day for her as she officially turns
eight years old
!
Happy Birthday Ella
! I hope you have a wonderful time with family and friends as everyone comes together to
celebrate
your
special
day. Being eight will be a whole lot of fun full of new adventures and exciting opportunities, it's going to be a great year for you! Enjoy cake, presents, and all of the things that make your birthday one of your
best
days of year,
Happy Birthday
!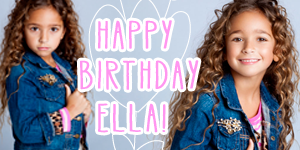 Posted by: Lisa